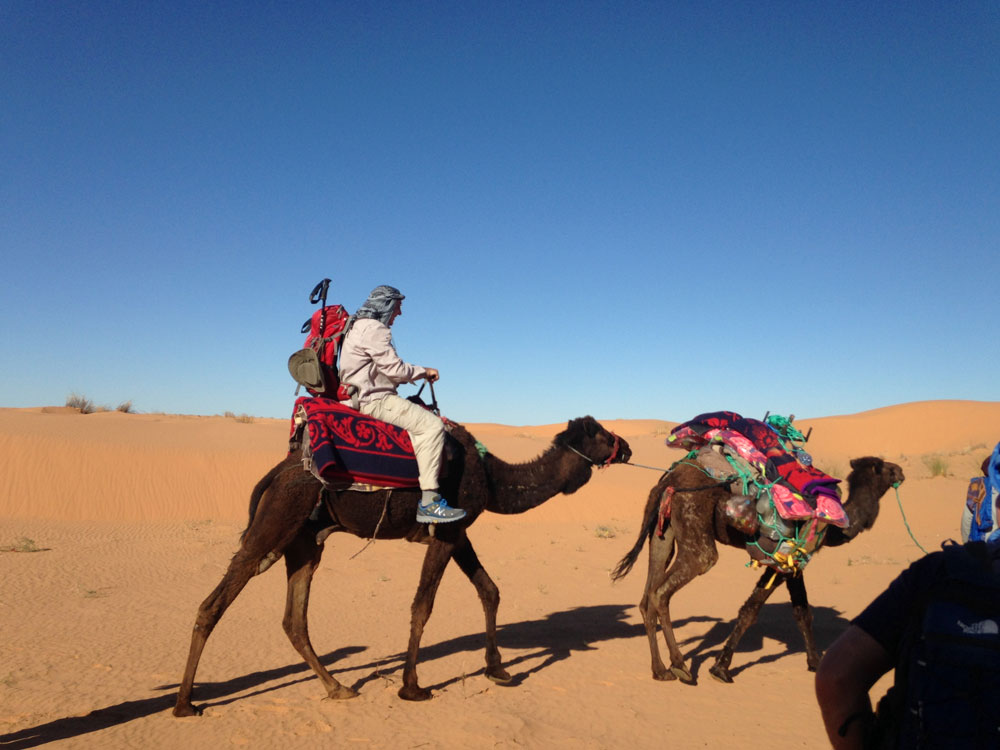 Sahara Desert Trek March 2015
The record high temperature of the Sahara was 136°F / 58°C!
To me, the Sahara displays an awe-inspiring uniqueness as did the North Pole. They share extremes of contrasts yet alike in so many ways; legend, mystery and raw beauty. Both can and will kill you if you don't respect them.
The Sahara is the largest non-polar desert on our planet; 3,320,000 square miles (8,600,000 square km) If you take the wrong dune and lose your way, you're in deep do-do, (shit)!
A desert is a barren area, defined by averaging less than 10 inches / 25cm of precipitation (rainfall) each year. Clear skies, light wind and dry air helps the air temperature cool off significantly at night. Insufferable heat during the day can turn into unbearable chill at night. During a brief business visit to Niger I did briefly see the mind blowing vastness of the Sahara; from the northern heights of Atlas Mountains also I observed sweeping immense view . What I witnessed blew me away; triggering a worm of curiosity. My mind was racing, I began to plan!
18 months after my trip to Morocco I called Steve and Ibraham to see what was possible. 6 month later eight of us, Roger, Lesley, Maria, Clive & Max Hagley, Dave, Julie R and Michelle. flew to Marrakech to start a new adventure.
Our local guide – Ahmed Amzil Ibraham teamed with Steve Pinfield.
We spent 10 days in the Northern Sahara, riding on and walking with Camels at a gentle pace along the ridges of sand dunes early morning or late afternoon, surrounded by nothing but more sand and an open blue sky.
Setting up camp on the warm dunes; taking time out to relax and enjoying a breath taking desert sunset. It's surprising how quickly darkness descends giving you a feeling of timeless tranquillity.
The Sahara's interior, being so remote and hard to reach, is ideal for stargazing. The dark desert night sky creates a wonderful backdrop for the most spectacular views of the stars on Earth. We slept in the open, laying back and looked up at the stars. I'd drift off to sleep with a smile on my face.
In the morning , the silence of the desert is rudely broken by moans, groans, bellows, bleats, farts, and a disconcerting 'rumbling growl'. It's our Camels complaining about Clive Hadley's snoring.