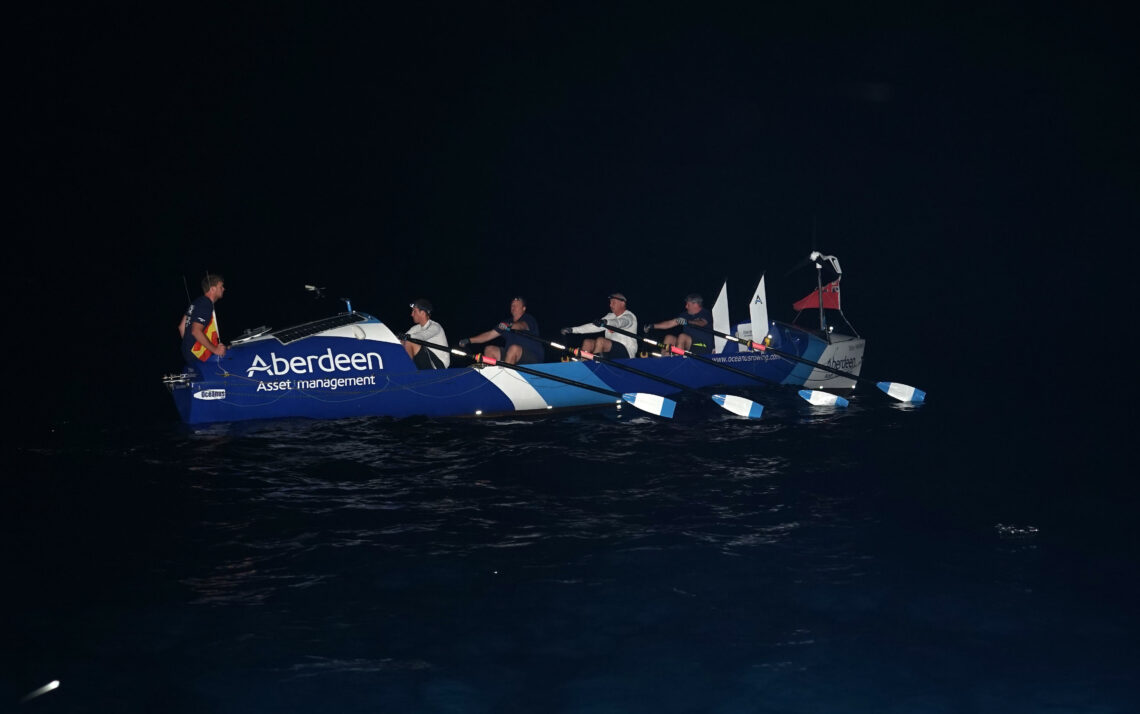 The Toby Wallace Atlantic Row – January/February 2016
It was approaching midnight on the 28th Jan 2016 – I was sitting in my rowing position, on the "Toby Wallace", a light-weight ocean rowing boat; 'primed and ready for an attempt' on a world record.

Our challenge was to Row across the North Atlantic, setting off from Marina Puerto De Mogan Gran Canaria, 4815Km. / 2992 miles to Port St Charles Barbados faster than anyone before.

I was musing !!!! Rowing the Atlantic seemed a good idea at the time.

On reflection !!!! However the reality, as with much of life, it's not all it seems.

Ocean Rowers will row for 12 hour in every 24 hours; 2 hours on and sleep for two hour. However, Simon had worked a new system, every day for the next 34+ days on the Atlantic, we were too row 12 hrs per day split into 'five watches'.

1 hour at midday and a 4 hour session during the small wee hours, 2 x2 hrs and 1 x 3hr.

On the upside, we did each have a 3 minute break every hour, to take a drink, eat sweets, poo and pee.

Tragedy struck in the night of February 14th. Location close to 18 29′ N 039 06′ W. over a thousand miles from land.

Simon gave a loud warning shout, "big wave". I looked up to see a monster swell coming at us fast out of the dark; it was the size of a two storey building. This rogue wave was arriving from unexpected direction intent on broadsiding our row boat. Not to break over but pummelled through us like a water tornado.

The immense power of unstoppable maelstrom of angry sea water lifted me and ripped my rowing seat from its fixings, luckily dumping me in a tangle, hard into the small corner of the low 300 mm gunnel and cabin bulkhead; luckily not over the side.

Moments later I heard Simon shout those most dreaded words.

"Man Over Board".

My hardwired primal instinct for survival kicked in. I fought to get up to see the 'Strokes' seat was empty.

Mike was gone.

After 12 hr search by air and sea the rescue operation was called off.

Mike was lost to the sea.
As I have grown older, more traveled and somewhat more informed I truly appreciate 'Time' is my most precious resource. 'A day at a time', I accept I am passing through Life just this once! I choose not to waste the Adventure!
Link to Sutton Guardian News Story
Roger raised funds for Action on Addiction
Action on Addiction is a UK-based charity that works with people affected by drug and alcohol addiction. It works in the areas of research, prevention, treatment, aftercare, as well as professional education and family support
---
Crew Profiles for the "TOBY WALLACE" January 2016
Toby Wallace Atlantic Row 2016
Atlantic Row 2016 Photos