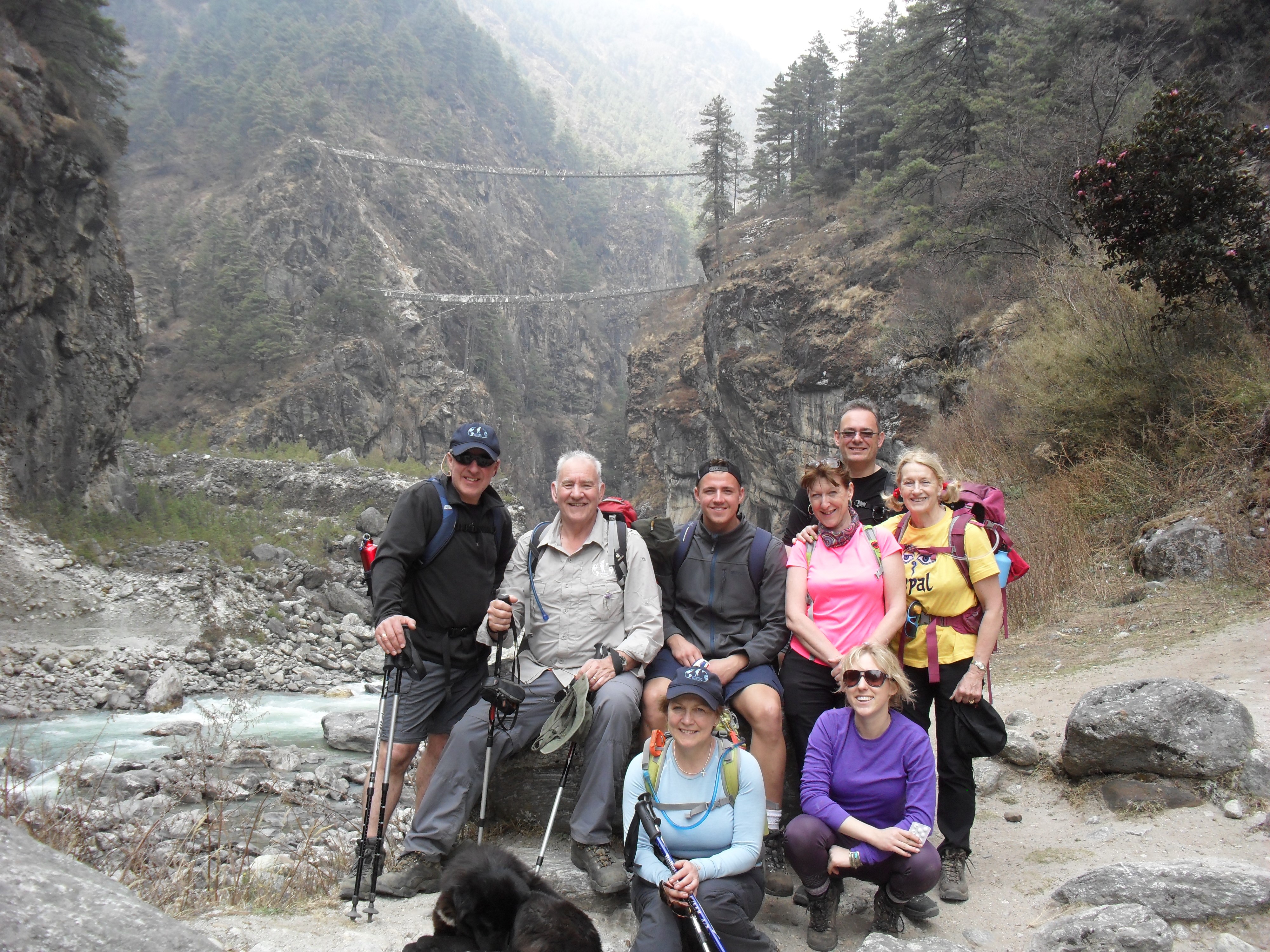 Our journey to Everest Base Camp Nepal
The Team : Roger, Lucas Bateman, Lesley Pender, Annie (Annabelle) Hancock ,Clive Hagley & his youngest son Max, Julie Jones, Jan Meek
Our journey to Everest Base Camp on the lower slopes of world's highest and arguably the most majestic mountain is as spiritual uplifting as it is physically challenging.
What makes it tougher; is trekking at altitude; rising an additional 2680m, eventually to reach Everest Base Camp, sited at 5360m; where there is 50% less oxygen compared to sea level. Altitude sickness can hit you at any time, specially over 3000m
We flew from from Kathmandu, at an altitude of 1400m up to a height of 2860m above sea level.. Landing safely at Lukla Airport, that has the reputation of being the most dangerous airport in the world. From here our classic Everest Base Camp trek started – walking through the Kumba valley through many of the most incredible traditional villages, where time has stood still for centuries. Colourful sights of shrines,temples and rhododendron forests. The panoramas of the magnificent rising snow topped giants is utterly breath-taking!
On route we night stay at Nepalese Teahouse's; small bed-and-breakfast-like hotel. They often have A large sign outside that reads; "tea, coffee, hot showers here and we have electricity".
We negotiated a long suspended footbridge; you looked down at an impressive drop of about two hundred meters, although it seemed an awful lot higher when you stepped out on it. What was more impressive was when a Tibetan caravan of Yaks and Dzos (Yakow), started to cross. The deep valley was home to gushing glacial waters, born of glacier melt flowing down from high-altitude areas ; the water looks white!
We arrived at Everest Base Camp Nepal in the midst of icy blizzard delivering blasts that swept through us. Unfortunately every now and then our view of Mt Everest's southern face was patchy.