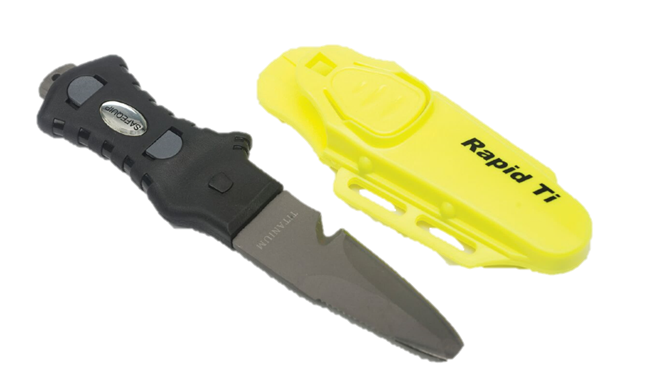 Rescue Knife is an ideal survival tool made for emergency situations.
The Safequip Rescue knives are an essential safety tool to carry with you on the water. Whether tangled in rope or needing to be released urgently, it can cut you or a companion out of danger. The compact Rapid Ti has a corrosion resistant Titanium blade with one serrated edge and one smooth edge that incorporates a line cutter into the blade. The blade is blunt ended for safety which makes it an ideal compact rescue knife. The moulded handle is fitted with a metal shank at the base which can be attached to a lanyard and comes supplied with a high visibility moulded sheath with a quick release mechanism and is designed so that it can be fitted to a PFD/Lifejacket or BCD. Overall length: 17cm, Blade length: 8cm It is highly recommended for 'all' sailors, oarsmen & kayakers to carry a personal knife.
I always carry a Rapid Ti rescue knife when sailing or rowing, both inshore and offshore ; it is a 'must-have' part of my kit.
** Safequip has built a reputation for "Serious Products for Serious Users" : creating reliable and comprehensive solutions for specific requirements; and are highly recommended by the Coast Guard & Public Safety Professionals.